Is your car's first aid kit ready for winter?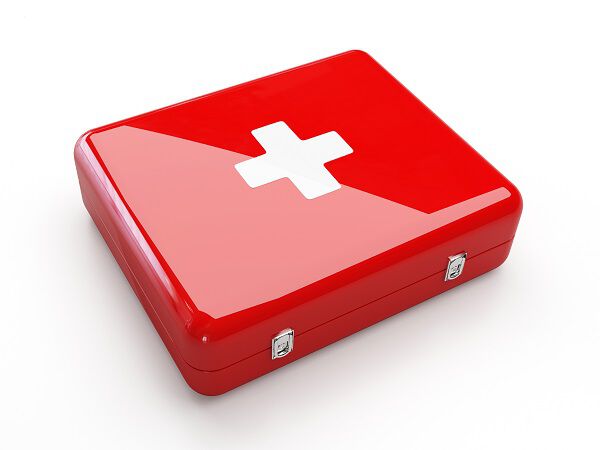 Winter is here and in many parts of the U.S., experiencing a medical emergency or car trouble while you're on the road is made all the more dangerous when frigid temperatures and adverse conditions are the norm. If you haven't done so already, creating a winter weather emergency kit for your vehicle is a smart choice for the winter months, and investing in a first aid kit should be at the top of your to-do list!
Luckily, if you are enrolled in a flexible spending account (FSA) or health savings account (HSA), first aid kits are FSA/HSA eligible, so this is the perfect time to update your existing kit with first aid supplies or start from scratch with a new one. With this tackled, what else will you need this winter? Here are the most important items you should include in your car's emergency kit this season.
Fire Extinguisher
This is an extremely handy item to have in your car, whether you find yourself victim to a car fire or spot a fellow driver in need. Fire extinguishers should be rated for Class B and Class C fires by the National Fire Protection Association (NFPA). Class B fires are those that involve flammable or combustible liquids, such as gasoline, diesel fuel and kerosene. Class C fires involve energized electrical equipment such as switches, panel boxes and batteries.
Floor Mats
While you may go through your share of floor mats this winter, make sure to pick up a few inexpensive rubber floor mats to stow in your car's trunk as well. Rubber floor mats are the easiest way to help get a car unstuck from a slick spot by placing them under the drive wheels and moving out of a spot that may be laden with moderate snow and ice.
Flashlight and Batteries
A flashlight is essential in an emergency situation, as it can help you flag down passing drivers or tow trucks, as well as being able to inspect internal vehicle components in low light conditions. Be sure to change the batteries in the flashlight at the beginning of the season, and pack some spare batteries in your vehicle to ensure that you can keep your flashlight functioning in an emergency situation.
Tow Straps/Rope
Even the most rugged 4-wheelers can get stuck in adverse winter conditions, and if you are far away from the nearest town, you may have to rely on other drivers to pull your car off the side of the road if it becomes immobile. When shopping for these products, make sure to go for tow straps/ropes that are strong enough to tow at least 6,000 pounds to be able to move most vehicles in winter weather conditions.
Blankets and Winter Attire
Last but not least, your vehicle emergency kit should include materials that can help you and loved ones stand up to the cold in the event that you become stranded in frigid conditions. Warm blankets, as well as spare hats and gloves can help keep you and your passengers warm until you can get the car free or until emergency services arrive to assist.
For everything you need to keep your family healthy this winter, shop at FSAstore.com! We have the web's largest selection of FSA eligible products to help you maximize the potential of your healthcare benefit and keep your loved ones healthy year-round.