FSAstore.com Reminds Consumers: March 15th Grace Period Deadline Approaching; Use Your Flexible Spending Account Dollars Now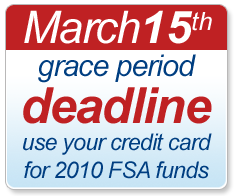 NEW YORK, NY--(Marketwire - February 22, 2011) -FSAStore.com, the only one-stop shop stocked exclusively withflexible spending account eligible products and services, is reminding consumers to use their flexible spending account funds forFSA eligible items before the March 15th deadline for 2010 dollars. This grace period is available to many FSA account holders.

FSAStore.com projects consumers may forfeit as much as $400M this year as the March 15thdeadline to use-or-lose FSA funds approaches. Approximately 30 million consumers participate in FSAs, which allow them to pay for tens of thousands of healthcare products and services with tax-free dollars.

"Millions of dollars are wasted each year simply because consumers do not deplete the funds in their FSAs," said Jeremy Miller, FSAStore.com founder and president. "We are reminding our customers of this deadline, and encouraging them to use any remaining funds in their accounts to purchase FSA eligibleproducts and services , to avoid forfeiting their hard-earned tax-free dollars."

Due to healthcare legislation effective January 2011, forty-five percent of over-the-counter healthcare products require a prescription in order to be reimbursed by an FSA.FSAStore.com clarifies the new healthcare changes on its site by distinguishingFSA eligible andFSA eligible with prescription products.FSAStore.com also provides easy tools for its customers, including the updated FSA eligibleproduct list.

FSAStore.com is stocked exclusively with FSA eligible products and services, accepts all FSA debit cards and major credit cards, offers 24/7 customer service, one-to-two-day turnaround, free shipping for orders $50+ and there is no need to submit receipts when using an FSA debit card.