Honoring my mother's 'pink' fight this October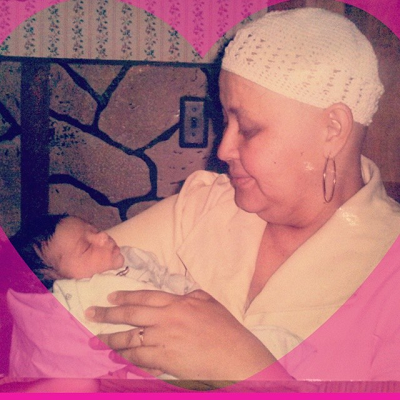 Note: This article was originally published on October 7, 2017. With the writer's permission, we've decided to update and repost it, so new readers can share in her story.
--
It has been 23 years since I first was told the word cancer. I remember my aunts and uncles were all in my house. I thought we were having a normal family get together like we usually do, but then my aunt walked me down stairs and told me, "Your mom has breast cancer."

I did not know how to react at that exact moment because I did not know what cancer meant at the time. Then I was told what cancer means and knew my mother was sick.
Each October, as the leaves start to turn the wonderful fall colors of yellow and orange, there is one color that truly rises above them all: pink. Throughout Breast Cancer Awareness Month, ribbons to t-shirts to sports cleats are cloaked in the beautiful shades of pink to bring awareness to this cause through research, medical advancements and support for those who fight the disease directly.
In 2018, it's estimated that among U.S. women there will be 266,120 new cases of invasive breast cancer (This includes new cases of primary breast cancer, but not recurrences of original breast cancers.)[1].
Education about breast cancer has been my lifelong mission to bring awareness and knowledge to those who may need it now or in the future. I was always a very curious child and I told myself that I would learn everything I needed to know about breast cancer. As the older sibling of two, I knew that educating myself would help my family to cope with this new journey in our lives. My mother went through a round of chemo and radiation before her mastectomy in June 1995. A few months after surgery we got the news she was in remission.
After two years of being cancer-free, we received the news it had metastasized to her lymphatic system and ovaries. In this time, I had researched new procedures and medicine to treat breast cancer. I joined my mother at her next pre-op appointment for her second surgery.
Along with help of the resources available to me and several other sites, I was prepared this time around for any news. I even had questions for the doctor and he was surprised how knowledgeable a teenager was about the disease. My mother always taught me never to give up hope on anything in life, nothing was truer when it came to cancer. She faced it with a smile and positive attitude, no matter how hard it got.
In April 2005, I was supposed to honor my mother's fight during a cancer walk at my university, but she lost her battle that afternoon. I fought for her then and I will keep fighting not just in her memory, but for the thousands affected by breast cancer today and in the future.
Since then, I have spoken at many workshops at universities and at walks like the American Cancer Society's Relay For Life, and Making Strides Against Breast Cancer. After I joined FSAstore.com as a Customer Service Specialist, we hosted several events and fundraisers to benefit breast cancer charities and research efforts, and I'm happy to know that I work for a company that supports these efforts.
We wear our pink proudly together every October for breast cancer awareness!
This year, I encourage our FSAstore.com community to go the extra mile to support patients and families who are living through the same experience I have been through. Join a cancer walk, wear a pink ribbon proudly, or make a donation to a breast cancer charity. Even a small gesture can mean the world to those who are battling breast cancer.

--
Brenda Flores is a Senior Customer Service Representative who has worked for FSAstore.com and HSAstore.com for five years. She has led many internal business efforts to support breast cancer charities, and has been a tireless advocate for the cause for more than a decade.
[1]American Cancer Society. Cancer Facts and Figures 2017. Atlanta, GA: American Cancer Society, 2017.