5 FSA eligible products to avoid snow shoveling injuries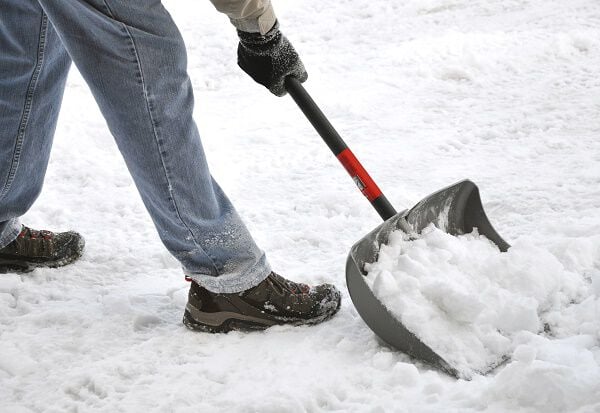 Do you live in a part of the U.S. that will see significant snow accumulation in the coming months? Chances are, you'll be outside with a snow shovel clearing away snow and slush, and no matter what age you are, this is a strenuous activity that could lead to significant injuries if you don't make the proper preparations.
As an flexible spending account (FSA) user, you have a unique advantage this winter in that your benefit can cover a huge range of qualifying products that can safeguard you and your loved ones from potential snow shoveling injuries. As the 2017 FSA plan year kicks off, here are a few products you can purchase with your FSA card to prevent major injuries this winter.
Back Braces
Shoveling snow, especially wet snow, can be especially trying on your lower back and can put you at serious risk for orthopedic injuries. Overworking specific areas that aren't used to regular heavy activity can lead to muscle, ligament, tendon and other soft tissue injuries, which is why a back brace is a smart purchase for this season. Back braces can immobilize the lower back to prevent strain injuries, as well as limit the pressure on the spine by maintaining proper posture.
Check Out: Sportaid Back Brace with Suspenders Black, 32"-44", Med/Lg
Cushioned Insoles
Slips and falls during snow shoveling can happen to anyone, and if your shoes fit poorly or do not provide proper support, this can result in painful accidents if you're not careful. Luckily, cushioned insoles are FSA eligible to provide additional comfort underfoot, enhance the fit of your shoes and lessen the impact of heavy activity during snow shoveling.
Check Out: Men's: Dr. Scholl's Massaging Gel Men's Outrageous Comfort, Size 8-13
Women's: Dr. Scholl's Massaging Gel Women's Outrageous Comfort, Size 6-10
Vision Correction
One of the leading causes of snow shoveling injuries is poor eyesight, as some men and women may not be able to see icy patches and other risky areas before it's too late. If you've been putting off investing in new glasses or contact lenses, now is the perfect time to make a change for the better. Visit our Contact Lenses page to shop a huge selection of qualifying lenses, or our Rx Glasses page for a huge selection of designer frames and lenses. And don't forget our huge range of eyeglass and lens accessories!
Cold Packs
If you suffer a bump or bruise while shoveling snow, make sure you have a cold pack ready when you come indoors! Moving from a cold environment to a hot space can speed inflammation and can make bruises even worse, so make sure you have a form of cold therapy ready to apply to the affected area to curb swelling and pain in the event of an injury.
Check Out: ACE Instant Cold Compress Twin Pack
Kinesiology Tape
Heading out to shovel snow with existing muscle soreness or another injury can cause it to worsen, which is why kinesiology tape is such a great investment. This synthetic tape provides additional support where you need it most, whether it's a sore shoulder, knee or other joint issue. Kinesiology tape can provide the support and continued range of motion to help you tackle day-to-day tasks without pain.
Check Out: KT Tape PRO, Pre-Cut, 20 Strip, Synthetic, Jet Black