5 ways to treat yourself this Father's Day with your FSA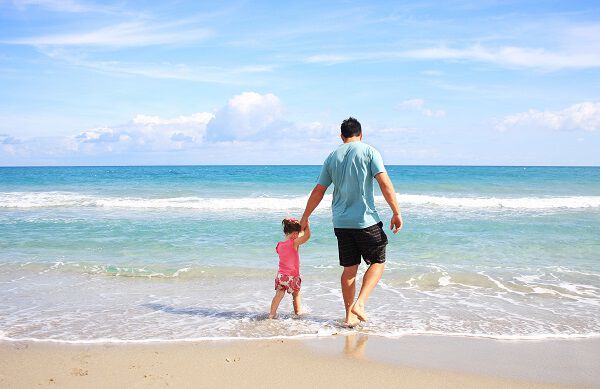 Father's Day arrives on Sunday, June 18, and it's your day to spend with family and friends in your celebration of all things "Dad." As enjoyable as this holiday is, it also sheds light on the indispensable role that you play in your loved ones' lives, and maintaining your overall health should be your top priority to enjoy many more Father's Days for years to come.
If you are enrolled in a flexible spending account (FSA), your benefit can cover a huge range of qualifying health products that can support your long-term health, and even help you enjoy your favorite activities more safely! Here's how to use FSA money to do just that!
Blood Pressure Monitor
According to the U.S. Centers for Disease Control and Prevention (CDC), hypertension affects 75 million Americans, or about 1 in 3 American adults. If you have hypertension, or a family history of high blood pressure, tracking your numbers with a blood pressure monitor is a smart choice for your long-term health.
These devices will shed light on fluctuations in your blood pressure levels and create reports that you can share with your doctor to help make positive lifestyle changes for the future. Best of all, many of these devices are compatible with your smartphone!
Check Out: Qardio Arm Wireless Blood Pressure Monitor
TENS Machine
Have you recently contended with chronic or acute pain issues? You may be a great candidate for a transcutaneous electrical nerve stimulation (TENS) machine! TENS machines administer electrotherapy, which utilizes electricity to interfere with the transmission of pain signals through the nerves to alleviate pain. These devices can also promote the release of endorphins, a form of natural pain reliever that can reduce instances of pain in a variety of situations.
Check Out: Icy Hot Smart Relief TENS Therapy Knee and Shoulder Starter Kit
Vehicle First Aid Kit
You have a first aid kit at home to handle any emergencies, but what about your car, boat or recreational vehicle? First aid kits are FSA-eligible and can help you tackle major and minor injuries with confidence before seeking out medical attention. Adventure Medical Kits has a full line of first aid kits to suit any vehicle, lifestyle and price point.
Check Out: Adventure Medical First Aid Kits
Mineral Sunscreen
Do you find yourself constantly re-applying sunscreen during trips to the beach or during outdoor activities? Mineral sunscreen is your answer! These products are dermatologist-tested, do not absorb directly into the skin and contain ingredients that can reflect UVA/UVB rays that contribute to sunburns. As long as sunscreen is SPF 15+, you can use your FSA to cover the sun care products that do the most for your overall wellness!
Check Out: MDSolarSciences Mineral Moisture Defense SPF 50 Sunscreen 4 oz
Cold Wraps
Looking to get back into the gym this summer? Starting a new workout plan will come with its own share of post-exercise soreness, so make sure you don't stray too far from your routine with re-usable cold wraps! These pads require no pre-cooling and can be used right out of the package's resealable pouch.
Check Out: Arctic Ease Instant Cold Wrap Blue (2.75"X36")
For everything you need to maximize the potential of your FSA, visit FSAstore.com! Search the web's most comprehensive Eligibility List available, submit a question on our FSA Learning Center and shop the largest selection of FSA-eligible items on the web!