FSA Eligible Product Spotlight: Eko DUO ECG + Digital Stethoscope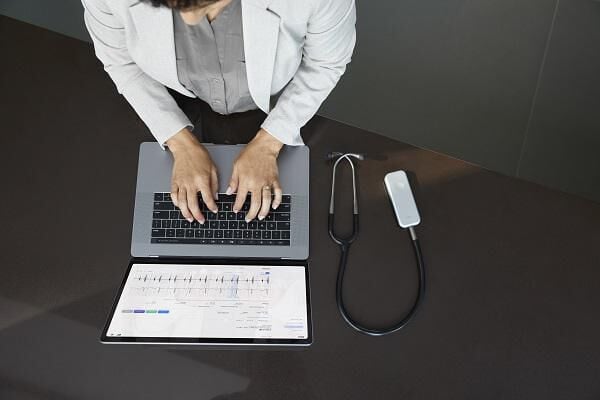 With 2021 in full swing, millions of flexible spending account (FSA) users are starting new plan years with their full FSA contributions ready to spend, while millions more have an FSA grace period deadline coming on March 15. In this month's FSAstore.com Product Spotlight, we'll be taking a closer look at a fantastic option for your FSA dollars at any time of year: the Eko DUO ECG + Digital Stethoscope.
Let's dive into the ways that this device can be a great purchase for American Heart Month as a fantastic upgrade for care providers and a smart home health care option for patients with a prescription.
Louder and Clearer. You've listened to thousands of heartbeats. Now imagine the clarity of hearing them up to 60 times louder. This digital stethoscope allows users to hear and see cardiac irregularities with ease. With 12-level volume control, DUO helps clinicians care with confidence no matter the clinical settings.
Visualize ECG/EKG and PCG. The Eko DUO provides portability and utility in a compact package—It's an ECG that fits in your pocket. Whenever needed, the DUO allows users to visualize heart sound waveform (phonocardiogram) and ECG/EKG (electrocardiogram) tracings in real-time on their phone or tablet. With the Eko DUO, you'll always have a specialty scope at-the-ready that you can use with or without the included earpieces.
Record and Save. The best health tracking devices are those which allow you to create a full picture of your readings so you can take patient care to the next level—and the Eko DUO is no exception. This digital stethoscope allows you to save and annotate recordings in Eko's HIPAA-compliant cloud dashboard. And since it's logged on a secure dashboard...
Share with a colleague for a second opinion. Through Eko's secure cloud, you can share the results privately with a colleague or along with a referral to take the appropriate next steps. The DUO captures 15- to120-second recordings to chronicle a patient's exam history. Users can save unlimited recordings to unlimited patients.
Detect cardiac irregularities. The DUO opens up Eko's full arsenal of AI algorithms that analyzes heart murmurs, atrial fibrillation, and more. And being able to record and save these readings can allow them to be easily shared and analyzed by health professionals.
Evaluate patients virtually. The DUO's compatibility with Android, iOS, and Windows operating system devices make it ideal for the ever-growing telemedicine industry. Securely and safely evaluate patients virtually to help them make the right next steps for their health.
Unlock DUO's full potential with Eko Software. Through Eko's web dashboard, the DUO helps monitor a patient's progress over time and makes it easy for them to use and implement into their wellness plans. It's an all-in-one sharing, streaming, and monitoring package with your patients' health as the top priority.
And last but not least, the Eko DUO ECG + Digital Stethoscope is FSA and HSA eligible!
Whether you have an FSA deadline coming on March 15, or you're still budgeting out your 2021 health spending, the Eko DUO is a smart purchase for all health professionals alike. As the first and only combined digital stethoscope + handheld ECG to provide unprecedented insight into cardiac function, the DUO is changing the way you detect, track and act on insights for long-term cardiac health.

Thanks for visiting the FSA Learning Center! To stay on top of all FSA news that can affect your health and financial wellness, be sure to follow us on Facebook and Twitter.